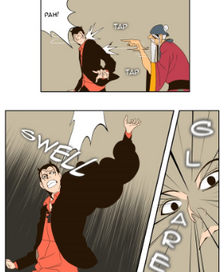 Nabong Needle Ryu (나봉침 류, 羅峯針流, ナ・ボンチム流, "Na Bongchim Ryu") is a type of martial art that utilizes acupuncture to attack. It is used by Jin Mo-Ri and Na Bong-Chim in the series. It is emphasised in strong, fast attacks with the fingers functioning like needles to puncture pressure points and vital points on the body.
Origins
It is unknown where it originally began but it can be assumed it was created by Na Bong-Chim.
History
After Jin Tae-Jin's battle with the survived Northern agent was found successful, South Korea built a battalion of soldiers who practised RE Taekwondo. However, Jin Tae-Jin was the only survivor after they went into North Korea and thus was the only one who knew how to use it. After returning he was attacked by the Six which includes Na Bong-Chim but they were easily defeated by him.
Known Techniques
Users
Gallery
References